King of the domestic pop scene has arranged for the girls grand celebration.
Philip congratulated Alla-Victoria with a five-year period.
The celebration brought together numerous celebrity guests and friends of the birthday girl.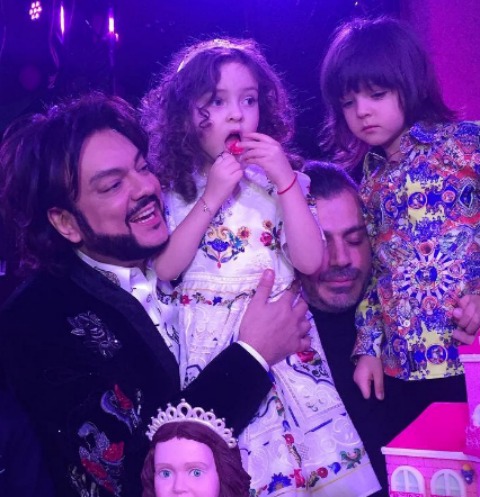 Today, Filipp Kirkorov Alla Victoria's daughter is celebrating its first anniversary. The girl was five years old. In honor of this event the king of Russian pop scene rolled for girls gorgeous holiday in the restaurant "Chalet Birch". On the day of birth of Alla-Victoria gathered celebrity guests – the godfather of the girl Andrey Malakhov and his wife Natalia Shkuleva wife Stas Mikhailov Inna with her daughters, Yana Rudkovsky and many others. Hall also was filled with friends of the birthday girl, who enjoy having fun on holiday.
Philip tried to arrange for a successor to the grand celebration. The restaurant for all children was organized an amazing show. Alla-Victoria was wearing a lovely silvery dress and she looked adorable, and then the girl changed her outfit on a white dress with embroidery.
"Marks the first anniversary of the younger generation of our family – the fifth anniversary of my beloved daughter Alla-Victoria", – Kirkorov wrote in microblogging, publishing a video of the holiday.
Fans rushed to congratulate the daughter of the King of Pop and is not stingy on the kind words addressed to the baby.
"Philip, my dear, I congratulate you on your birthday princess, little baby Alla-Victoria! Let it grow is healthy and most importantly happy! Let her yet that little life will only be joyful and happy events and moments! "," Let it be always healthy and happy your little beauty! Philip, you're the best dad! "," Congratulations on your birthday dochu. Total very nice to her. Let it be your pride, "- wrote the actor loyal subscribers.
Philip doted in their children. He tries to make the Alla-Victoria and her brother Martin grew versatile personalities. He is even thinking to give my daughter to engage in rhythmic gymnastics.