Western journalists have reported that the Olympic champion Michael Phelps and his fiancee Nicole Johnson staged a secret ceremony in June this year.
The chamber celebration, which took place in Arizona, spent the agent and close friend of the sportsman Peter Carlisle.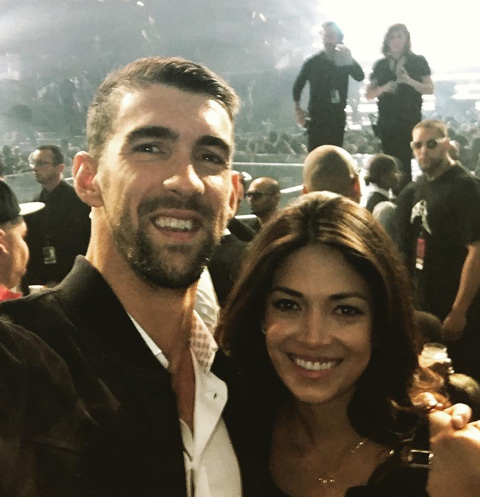 Today, in the Western media there was news that the 31-year-old Olympic champion Michael Phelps secretly married his beloved – 31-year-old model Nicole Johnson. Sami love this fact had no immediate comment. According to journalists, a happy event in the life of a famous athlete was back in June: first couple to register their marriage, and four days later a wedding. At a ceremony held in Arizona on June 13, attended by relatives and friends of the lovers. The event is held each agent Phelps and Peter Carlisle.
Journalists argue that Phelps hide the fact of their wedding for months, but recently, this information is still leaked. They also suggest that the beloved athlete hinted at a change in marital status "Instagrame". In the summer of Nicole Johnson shared a photo on which was imprinted their family, and signed the picture with the words "An unforgettable evening for us!".
Earlier this spring, at Phelps and Johnson's first child was born. Adorable boy named Boomer. "Welcome to the world! He was born May 5, 2016, healthy and happy. And it's the best feeling I have ever experienced in my life "- shared the Olympic champion in their social networks. Beloved Michael Phelps gave birth to a son
Recall that Phelps and Johnson announced their engagement in February last year. "She said" yes "- briefly wrote swimmer in" Twitter. "Become Mrs. Phelps" – shared, in turn, darling of the Olympic champion in the "Instagrame". Nicole Sweet athlete – winner of the beauty contest "Miss California", held in 2010. Before you decide on marriage, the couple dated for five years.
For Nicole Phelps decided to end his career as a swimmer. The most recent large-scale competitions in which he participated, became the Olympic Games in Rio, where he won his 23rd gold medal. In an interview with reporters Phelps said that he wanted to leave the sport this way. He also said that a new chapter in his life and wants to devote himself to his family and travel. In addition, Michael admitted that his overflowing emotions, and in such a stunning form, as in Brazil, he had never been.