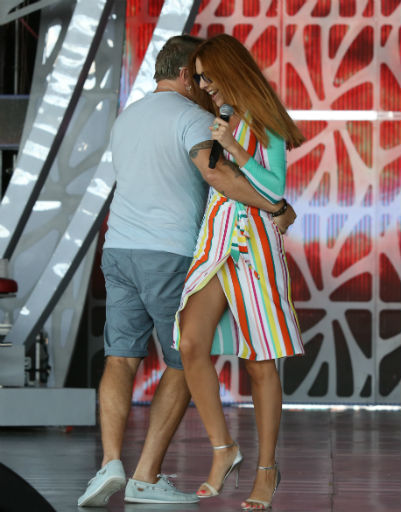 Fans of Vladimir Presnyakov and Natalia Podolskaya do not get tired to admire the touching relationship between the musicians. Despite the fact that the artists together for a long time, it seems that they are in love with each other at the beginning of the novel. Today, at a rehearsal of the contest "New Wave" Natalia and Vladimir once again showed his feelings. On stage, they looked pathetic.
Also, a number showed Philip. The king of pop scene, as usual, will present to all the spectators bright room, which involved numerous dancers. The whole team once again worked every detail, so that the show turned out perfect.
Dima likes to surprise viewers spectacular numbers. At the rehearsal the singer performed the song Lying.
Contest of young singers "New Wave" in this anniversary year for the festival brought together numerous stars of Russian and foreign music. As guests of honor arrived in Sochi, the brightest representatives of show business. There have also been invited, and world-famous artists such as Ricky Martin, Lara Fabian, Dmitri Hvorostovsky, Anna Netrebko and Sting.
Apparently, celebrities a great time at the festival in Sochi. For them, the "New Wave" – is not only an opportunity to showcase young artists professional work on stage, but also to communicate with colleagues.
Many viewers are introduced to the new names and talented young performers, as well as pay attention to the appearance of well-known people. In one of the competition days Nikolay Baskov has surprised all the fans of the festival is very bold and extravagant attire. To enter the event, which takes place in the seaside town, he chose to suit the water master. Spicy place Golden Voices of Russia was covered with shells.