At the premiere of "Viking" in the movie "October" it's so many people that see familiar faces all was impossible.
I do not be mistaken if I say that enjoyed watching the entire first line of our show business.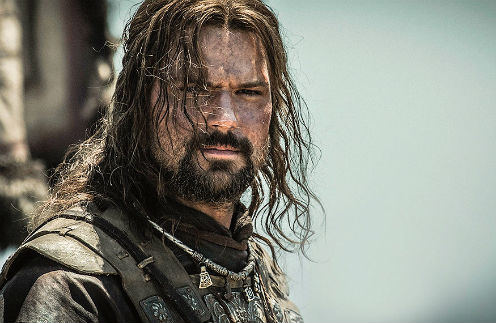 Creating kinogimna in honor of Grand Duke Vladimir (namely, of the fate of this character, and is dedicated to the picture) at a cost of 1 billion 200 million rubles. Costs are big, but coming out of the hall, many inspired by the heroic perfect way (you are no 900 concubines attributed to Vladimir Svyatoslavich) wondered: "Why is a monument to this white and fluffy historic character so much controversy and did not open much earlier in Moscow?"
The well-known philanthropist Paul Tapashidi even came up with the idea to build the world a new city and called it Vladimirograd (details on the website). Personally, my impressions are – Danila Kozlovsky as Grand Duke is great, his partner, Alexander Bortich – she appeared Polotsk Princess Rogneda – an incredibly beautiful and sexy. Above all praise and Maxim Sukhanov: he portrayed Sveneld – mentor future Baptist of Rus. So the creators of the famous "Game of Thrones" (parallel with this fantastic saga in the "Viking" are obvious), represented by the story of the sixth prince of Kiev, who lived in the tenth century AD, there is something to fear.